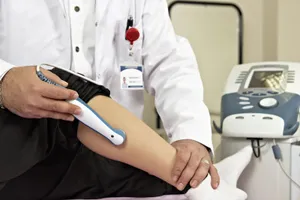 At the Chiropractic and Wellness Center we use Cold Laser Therapy to relieve pain. We've used it to successfully for knee pain, shoulder pain, wrist pain, foot pain, and hip pain . Our chiropractor, Dr. Mary Jo Johnson, uses it in along with chiropractic adjustments to accelerate the healing of back injuries. We've used laser therapy to reduce the pain and facilitate the healing of broken bones in the foot. If you're experiencing chronic pain please give us a call and let help you find relief. Our office is located in Indianapolis, very near Fishers, Carmel, and Zionsville Indiana.
How Cold Laser Therapy Works:
Laser Therapy is a process that utilizes light sourced energy to stimulate cells within the body. Cold Laser Therapy helps stimulate tissues, blood and lymph to assist in injury recovery and helps to relieve pain. The lasers used in our office uses multiple wavelengths to stimulate the cells at various depths beneath the skin.
How is Cold Laser Therapy Administered?

A laser emitter is placed directly upon the skin over the area of concern. Depending on the location and size of your injury, our provider may move the emitter around to cover a wider area or they may keep the laser in one spot. Each session of the Cold Laser Therapy lasts approximately 5-10 minutes.
Does Laser Therapy hurt?
Laser therapy is non-invasive and painless. Some people may feel a warming sensation or a slight tingling over the area receiving laser. Most patients will feel nothing.
Is it safe?
Multi-Radiance lasers are in the safest FDA laser class. They won't overheat or burn. Extensive clinical research and tests have confirmed their efficacy and safety.
When can I expect to see results?
Some patients may feel the benefits after the first session and most patients will begin to feel the beneficial effects of therapy after 3-5 sessions. Some will take longer. The number of treatments required before a patient may see results depends on the type of condition being treated, the age of the patient, and a patient's health. Dr. Johnson will meet with you and help you decide the best treatment plan.
What can laser treatments treat?
Multi Radiance technology can temporarily relieve pain associated with:
Arthritis
Back aches
Tight muscles
Sore shoulders, wrists, and elbows
Feet and ankle conditions
Hips and knee stress
Muscles Spasms
Sports and occupational Injuries
Sprains
Bone breaks
and more
***Please note: If you are pregnant, use blood thinners or have an active cancer diagnosis, you should not have laser therapy. Also, laser therapy should not be used near a pace maker.
To request an appointment or leave us a message: