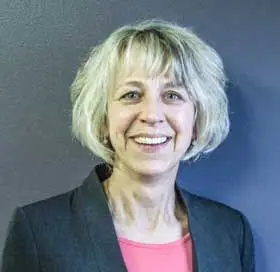 It wasn't until Dr. Johnson resolved a health issue of her own with chiropractic care that she changed her major from journalism to pre-med and began the journey of chiropractic studies. She graduated from Palmer College of Chiropractic in 1985. Dr. Johnson has been practicing in Indianapolis since 1993.
Dr. Johnson enjoys providing whole-person health care to people of all ages, the very young to the elderly. She observes that structural, nutritional and emotional stress causes a person to become "sick" or in pain. She views it her challenge to diagnose which of the sources of stress are causing a person to be "out of balance" and provide appropriate care, information and instruction in order to assist the individual to return to a state of balanced well-being.
In addition to being advanced certified in Activator Technique www.activator.com, Dr. Johnson is certified as a Digestive Health Specialist using the Loomis nutrition protocol www.loomisinstitute.com.
Dr. Johnson grew up in Wisconsin. When Dr. Johnson is not providing patient care she enjoys riding horses, hiking, biking, gardening, cooking and baking
Our team at Chiropractic & Wellness center specializes in Chiropractic, Laser Therapy, Massage Therapy, and Nutrition.

Memberships:
Indiana State Chiropractic Association
American Chiropractic Association
Palmer College Alumni Association
Activator Methods